#
CİTİ SUMMER STREETS 2017 &
#
SİRMA MUNYAR

Here's everything you need to know about this year's Citi Summer Streets.
By Chloe Morales (Patch Staff) - Updated August 3, 2017 12:51 pm ET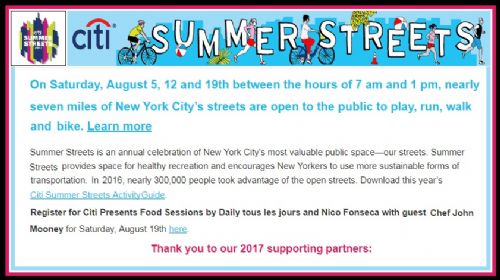 NEW YORK, NY — A 270-foot waterslide will be set up in the middle of Manhattan when Summer Streets returns to the city Aug. 5. The event has closed usually packed thoroughfares to traffic for the past 10 years, instead opening them as public playgrounds.
The slide will open in Foley Square Aug. 5, 12 and 19. Registration is required and available through Eventbrite. The first Saturday has sold out.
The closed-off area extends from the Brooklyn Bridge to Central Park along Park Avenue and connecting streets. Held from 7 a.m. to 1 p.m., all activities are free of charge.
(For more information on this and other neighborhood stories, subscribe to Patch to receive daily newsletters and breaking news alerts.)
Beyond the slide, other activities include a 165-foot-long, 30-foot-high zipline at Uptown Rest Stop on 52nd Street, a bouldering wall at Foley Square, bike-riding classes in Midtown, a "Paws and Play" dog park at Astor Place and fitness classes in Soho. There will even be a giant water park in the shape of a dishwasher, according to the city website.
In 2016, the city reported that nearly 300,000 people took advantage of the open streets.
A full map of the Summer Streets route, which is organized by the Department of Transportation, is available on the city website. Nearly seven miles of streets will be involved.
Summer Streets is modeled after other events from around the world, including the Ciclovía in Bogotá, Colombia and the Paris-Plage in France.

About Summer Streets
Summer Streets is an annual celebration of New York City's most valuable public space—our streets. On three consecutive Saturdays in August, nearly seven miles of NYC's streets are opened for people to play, run, walk and bike.
Summer Streets provides space for healthy recreation and encourages New Yorkers to use more sustainable forms of transportation. In 2016, nearly 300,000 people took advantage of the open streets.
Summer Streets is modeled on other events from around the world including Ciclovía in Bogotá, Colombia and the Paris Plage in France and has since inspired other such events around the world such as CicloRecreo Via and London's Regent Street Summer Streets.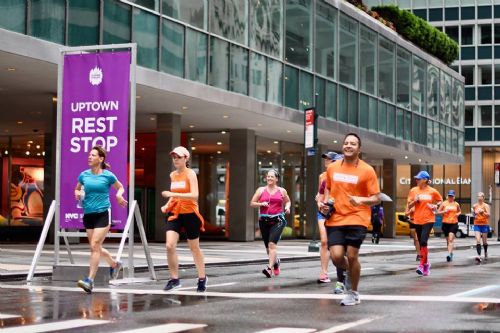 Held between 7:00 am to 1:00 pm, Summer Streets extends from the Brooklyn Bridge to Central Park, along Park Avenue and connecting streets, with easy access from all points in New York City, allowing participants to plan a trip as long or short as they wish. All activities at Summer Streets are free of charge, and designed for people of all ages and ability levels to share the streets respectfully.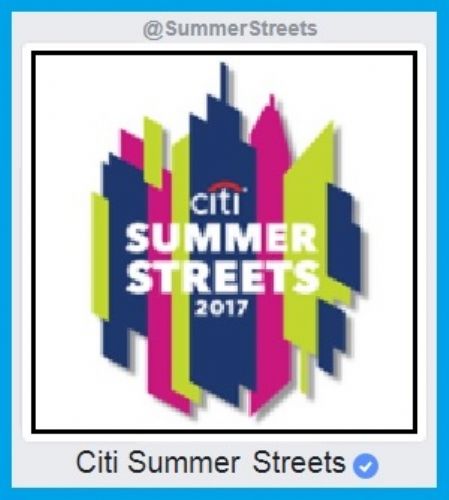 Summer Streets NYC 2017 guide
At Summer Streets NYC 2017, thrill-seekers can partake in free outdoor fun and slide down a massive water slide


During Summer Streets NYC 2017, seven miles of Gotham turf along Lafayette Street and Park Avenue is completely cleared of vehicles in order to create a pedestrian paradise. Hundreds and thousands of revelers descend upon the asphalt for invigorating sight-filled tours, plus free activities including a rock climbing wall, a zipline, outdoor art installations and misting stations. You won't want to miss this year's six rest stops which include a 270-foot water slide, fitness classes, a dog park, arts and crafts workshops, plus walking tours that explore NYC parks and some of the most beautiful NYC buildings. This is one of the best NYC events in August, so make sure to hit the streets for the first three Saturdays.
RECOMMENDED:
Full guide to things to do in the summer in NYC
When is Summer Streets.?
Summer Streets takes place over three consecutive Saturdays on August 5, 12 and 19, 2017 from 7am to 1pm.
Where is Summer Streets.?
Summer Streets' route starts at Lafayette and Chamber Streets by the Brooklyn Bridge, travels up Lafayette Street and Park Avenue to 72nd Street and ends at East 72nd Street and Central Park.
Summer Streets is a project of the New York City Department of Transportation.
NYC DOT thanks the other City agencies and organizations who provide vital support for Summer Streets, including:

[image description: a man fills a sample cup from a pink cooler labeled "nuun"]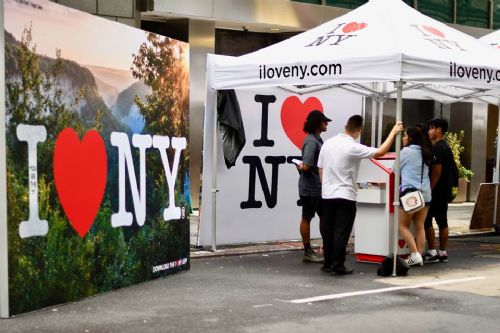 Want to snag an all-day social media pass for this Saturday's water park by LG at the Central Park Rest Stop.?

Just share your favorite summer memory on social media by posting a photo, and tagging LG Electronics USA with #LGQuadWash Thursday, 8/10 between 12pm and 7pm.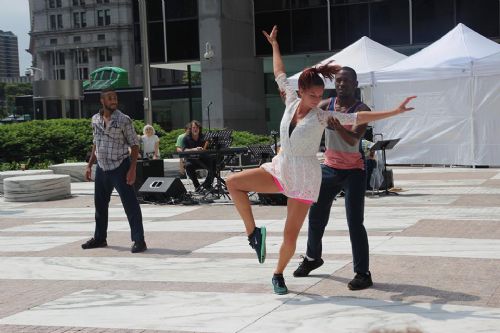 Show your post to the LG team on Saturday, 8/12 to receive the all day social band that will allow you to hop in line any time of the day for the squeaky clean experience! Details: lgquadwash.com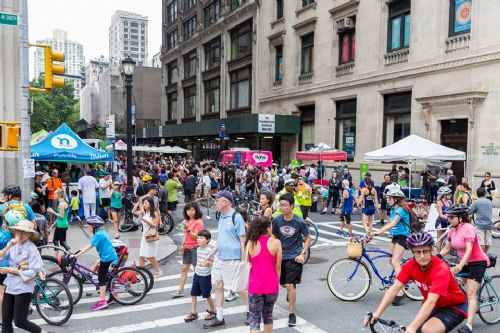 [image description: Adults and kids slide down the inflatable water park while life guards look on]
City kids become mountain bikers with CLIF Bar at #CitiSummerStreets Find them at the SoHo Rest Stop.!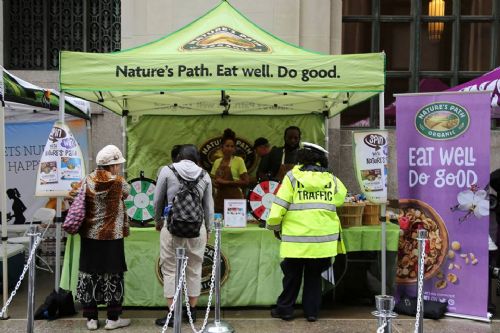 [A kid bikes over a wooden platform. Two adults stand near them.]
Stay hydrated and keep at #CitiSummerStreetswith nuun hydration.! Find them at the Midtown rest stop.

Make a splash at LG Electronics USA's#LGQuadwash at the Central Park rest stop.!
Did you check out #CitiSummerStreets' new Central Park Rest Stop and make a splash at the #LGQuadWash water park!? Rain or shine, this water park was a blast.!

Bring your bathing suit and join LG Electronics USAfor another so fresh, so clean water park adventure.!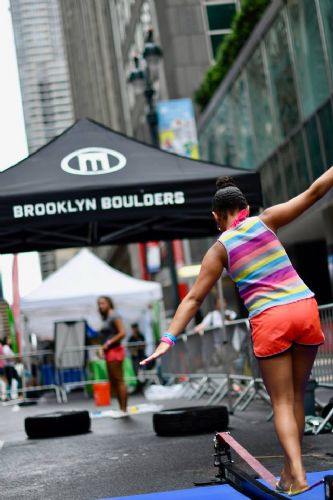 Note: On-site registration required. Ticketing is offered on the hour so participants are encouraged to arrive early to secure a spot. Tickets will be provided on a first come, first served basis
[image description: A large inflatable waterpark is stationed on Park Ave and full of happy, splashing children and young adults.]
You won't want to miss sharing Elisa Monte Dance's 8/12 performance, "Boomerang" on your favorite social media.!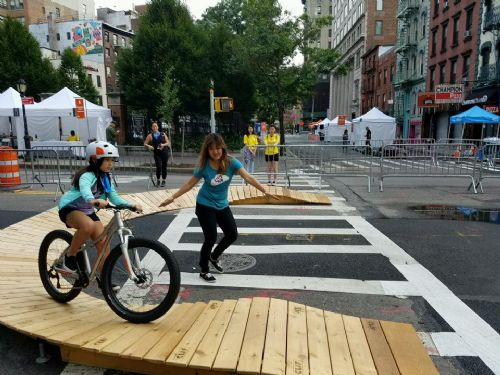 Join us Saturday at 11AM, Federal Plaza for this interactive dance. Share your photos, videos and, of course, boomerangs using the hashtag: #EMDSummerStreets
Take it slow in morning with meditation, and then get that adrenaline flowing later.!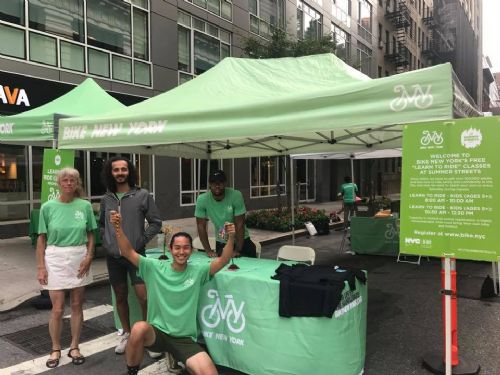 Check out the Midtown Health and Fitness Stage tomorrow for a variety of free fitness classes for people of all ages.!
#TheRunStudio is hosting free yoga classes today in Foley Square! 7:30 & 8am at #VitaCocoBeach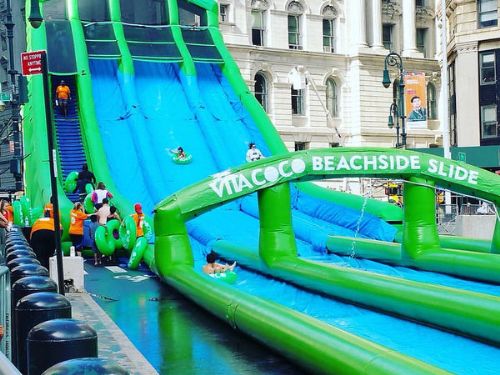 Bring your little ones for a FREE Bike New Yorklearn to ride class at the Midtown Rest Stop at 8AM & 10:30AM #bikenyc
‪Riding mountains🗻 in #Soho.! Beginner cyclists are welcome to join CLIF Kid for this adventurous ride
‪#CitiSummerStreets Citi Food Sessions at 8:45. Accepting Standby Particpants. Come to Astor Place!.
Department of Transportation
#Adopt-a-Highway, #Bicycle Greenways and Routes, #Bridges
#DOT Art, #External Affairs, #Energy Management, #Facilities
#Green Infrastructure, #Highway Inspection and Quality Assurance,
#Legal Affairs, #Manhattan Borough Commissioner's Office,
#Mobility Management, #Office of Construction Mitigation and Coordination, #Office of Special Events, #Roadway Repair and Maintenance,
#Safety Education, #Select Bus Service, #Sidewalks, #Street Ambassadors, #Traffic and Planning,
Sirma Munyar
City of New York
#Business Integrity Commission,
#Citywide Events Coordination and Management, #Department of Buildings,
#Department of Citywide Administrative Services, #Department of City Planning,
#Department of Consumer Affairs, #Department of Design and Construction, #Department of Environmental Protection,
#Department of Health and Mental Hygiene, #Department of Sanitation,
#Mayor's Office of Immigrant Affairs, #Mayor's Office of Sustainability,
#New York City Fire Department, #New York City Police Department,
#NYC & Co., #NYC Department of Cultural Affairs, #NYC Parks,
#NYC Parks Sustainability Division, #NYC Parks' Wildlife Unit and Wildlife NYC, #NYC Service, #Street Activity Permit Office, #Small Business Services,
Major Partners
#Citi, #Vita Coco, #LG QuadWash,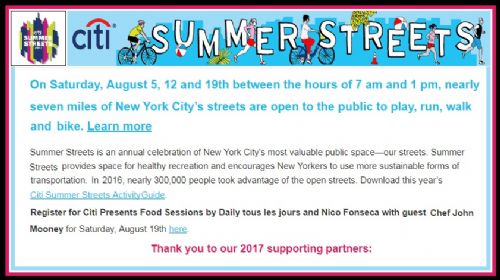 Supporting Partners
#Nike, #Clif Kids, #Cabot, #Nuun, #Crunch Gym, #noosa, #Nature's Path, #Yasso, #Honest Tea, #Purity Organics, #Walk at Home, #GoGo squeeZ
Media Partners
#NBC 4 New York, #Telemundo 47, #Time Out New York, #Metro, #Medyagunebakis.com,
Local Programming Partners
#Allen Sayegh, #American Foundation for Suicide Prevention,
#American Heart Association, #American Society of Mechanical Engineers,
#Animal Care Centers of NYC, #Animal Haven, #Appalachian Mountain Club,
#Arts Students League of New York, #Asia Society
#Backtrack Vocals, #Base 15 Studio, #Best Friends,
#Bike New York/ Recycle-a-Bicycle
#Bike & Roll, #Brooklyn Boulders Foundation,
#Bryant Park Jugglers, #BumbleeBee Jamboree,
#Carla Torres, #Chef John Mooney, #Citi Bike, #Citymeals on Wheels,
#City Parks Foundation, #Cleaver Company, #Climate Museum,
#Coach Cookie/WRKNYC, #Coalition for Healthy School Food,
#Coexist Music Group, #CultureNOW
#Daily Tous Les Jours, #DanceSport, #Dancing Classrooms,
#Design Trust for Public Space, #Devin Jano, #Discover Outdoors Foundation, #Dream Street Theatre Company, #Drew and Joanna,
#Earth Day Initiative, #East Coast Greenway, #El Museo del Barrio,
#Elisa Monte Dance, #Evolfo, #Five Borough Bicycle Club,
#GrowNYC,
#Hector Esrawe, #HONK NYC!, #Hunter College Urban Planning,
#Hye-Jeung Kang, #HYPOTHEkids
#I Love NY, #Ignacio Cadena, #inTandem, #Inti and the Moon,
#Jennifer Cecere, #Jessica Maffia, #JHEVERE
#Kate McLean, #Kirk Finkel/Urban Design Lab
#Local Roots, #Loudest Yeller Bike Tours
#Martial ARFS,
#Mary Mattingly, #Mas (Farmhouse), #Materials for the Arts,
#Montefiore Medical Center, #Moondrunk, #Mount Sinai School of Medicine,
#MSG, #Municipal Art Society, #Museum of Chinese in America,
#Museum of Food and Drink, #Museum of the City of New York,
#Music with a Message
#National Museum of the American Indian
#Neuman's Kitchen, #New Museum, #New York Cycle Club,
#New Yorkers for Parks, #New York Road Runners, #New York Violinist,
#NY Liberty, #NYC Kids Project, #NYC Parks Mobile Fitness Unit
#NYU Langone Medical Center Sports Performance Center
#Parkways, #Phone Home, #PopFit Kids, #Pop-Up Yoga
#RANN, #Receta Secreta, #Robert Anderson Band,
#Shambala Meditation Center of NYC, #SIRMA, #Society of Illustrators,
#South Bronx Farmer's Market
#Sulene, #Surfrider Foundation, NYC
#Talk Trash City, #Taoist Tai Chi Society, #The Afro-Latineers,
#The Hoop Movement, #The New York Botanical Garden, #The Other Brothers,
#The Poor Cousins, #Transportation Alternatives, #Triad Brass
#Urban Studio Unbound, #Vegan Chef Janie del Rosario Jimenez,
#Velocity: Columbia's Ride to End Cancer, #Village Alliance,
#Washington Square Winds
#WE Bike NYC, #Wheelchair Sports Federation, #WRKNYC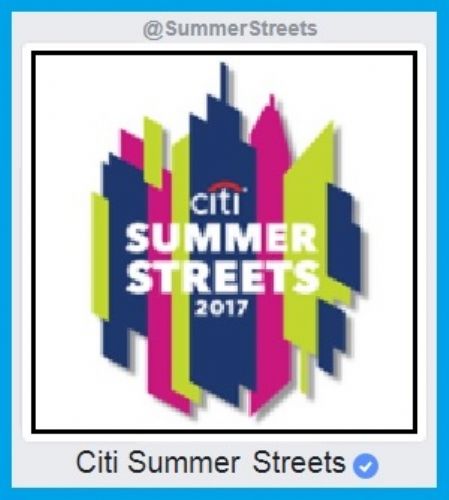 @ #Medya Günebakış
Ökkeş Bölükbaşı, İstanbul – Ağustos.2017 – okkesb61@gmail.com,
http://www.medyagunebakis.com/ -okkesb@turkfreezone.com,
https://www.facebook.com/okkes.bolukbasi, okkesb@telmar.net,
Ökkeş Bölükbaşı, İstanbul – Ağustos.2017 – okkesb61@gmail.com,